Every other Person has a dream of Earning Money while sleeping or doing nothing, this is known as Passive Income. These are the Money of doing nothing. Yes you heard right, DOING NOTHING!! Your Bank Account will be increasing, while you are sleeping. You only have to Recommend Amazon products. Today, I will tell you how to make money recommending Amazon products.
I know you are curious & want to know the Formula of Earning like this, But wait, Don't scroll down. I want to give one more surprise. What if I tell you that in this formula, you will be earning passively from world's No. 1 & Trusted store, Amazon.com? Yes, Amazon will pay you Dollars $$$, Isn't it like a feeling of winning award from PM? But Now this is the truth, we only have to market their vendor's products.
OK, Now Let's Start.
What is Recommending Amazon Products?
So the First Question in your Mind will be "What will we have to do for earning?" It's Simple, We only have to Recommend Products, listed on Amazon. This process is known as Amazon Affiliate Marketing, in which you have to promote Amazon products, on your Blog, YouTube channel or any other platform where there are huge amount of users (like: Pinterest, Quora, Reddit etc), But Promoting Affiliates on a website\Blog is highly recommended. We Only have to Promote the Products on Amazon, with each of our unique Affiliate Link, and Amazon will pay the fixed rate of Commission on each product. Millions of People are earning Millions of Dollars with only this Process.
It's Looking very easy, right? So it is. I told you, these are the money of doing nothing. Everyday we post many useless things on internet, Now this posting can drive you millions of Dollars. So, what are you waiting for? Sign up for Amazon Associates & use your friends' group for your first sale, as Amazon is highly trusted by everyone. Amazon Associates is the Platform where Amazon provides the unique link, for every product, to every Affiliate/promoter.
How to sign up for Amazon Associates?
Signing Up for Associates is very simple. You only have to complete five steps of registration & your dashboard will be in front of you by which you can earn money recommending Amazon products. Come on let's see.
Step 1 – Account Information.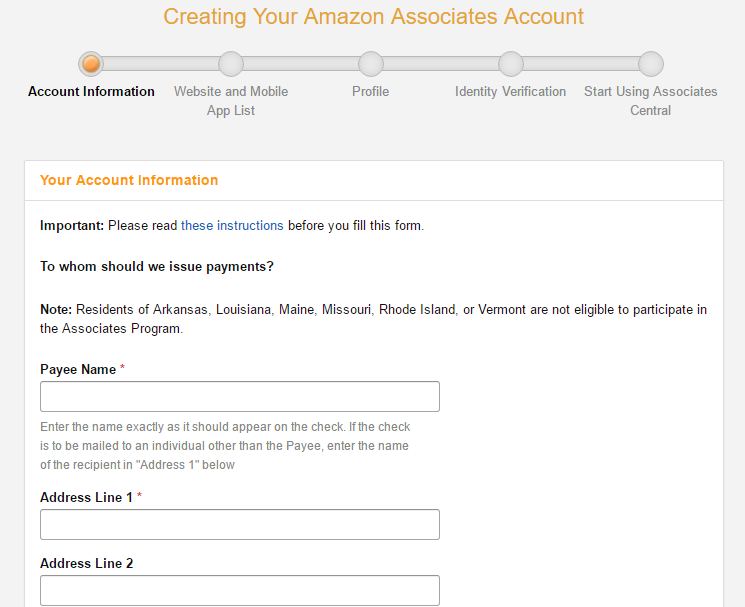 Firstly, Amazon will take your Bank details in order to send the earned money. You should provide all the legit Information, as many people provide fake information, in the fear of fraud. Amazon is the trusted company which secure every single element of your Fragile. People complain of not receiving the money as they did not provide real account information to receive it. Associates central allows you to withdraw your cash at anytime, any where.
Step 2 – Website & Mobile App List for referring Amazon products.
This is the main thing which you have to provide, on which you will promote Amazon products. This can be anything like; YouTube channel link, your blog/website URL, your Facebook profile or any App which you have created, where you will market amazon's products. One should have a handsome amount of followers, in order to get approved. After getting approved we can promote the link anywhere you want, but again gain followers.
Step 3 – Profile.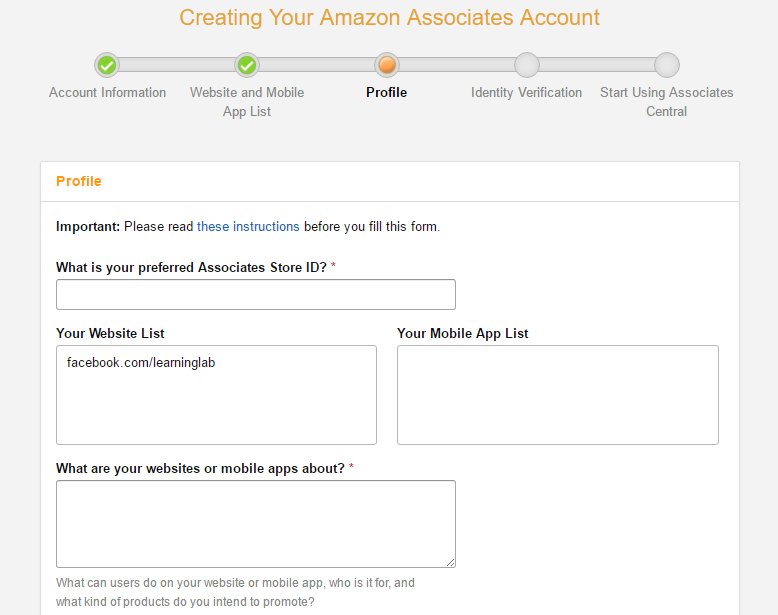 Step 3 asks you to set up your Associates profile. In which you have to set up your Associates Store ID which should be secret and should not be shared with anyone, as anyone can access your associates dashboard from anywhere. Secondly, You also have to describe what your websites or Apps, which you have listed above, are about or What are the Interest of your followers.
Step 4 – Identity Verification.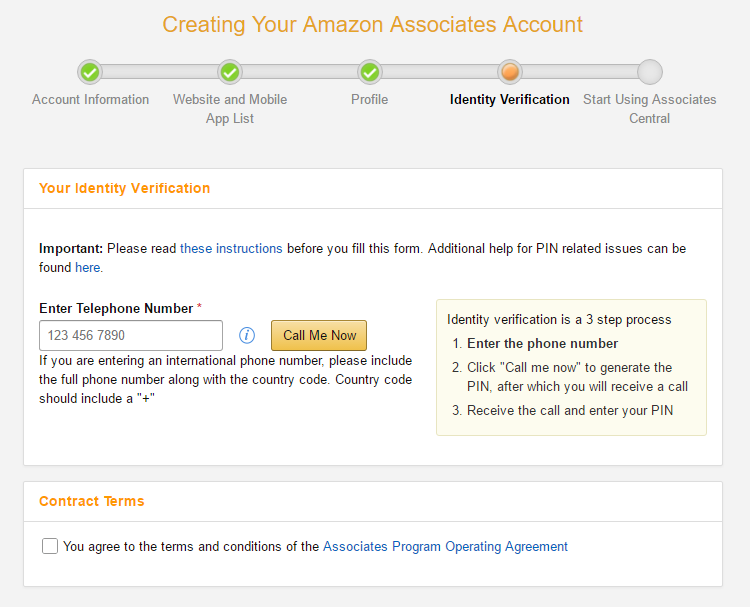 Verification of your Identity is very important for Amazon in which they can verify, that you are legit or not, via Mobile Number. Also, you will have to Agree the terms & Conditions of Associates Central.
Step 5 – Start using Associates Central.

This is the last page of your Registration, which will show all your Information provided, to recheck the information. After completing the registration process, you will be redirected to your dashboard from which you can access the unique links for all the products.
Associates Central is the only platform where the official Amazon gives commission to their affiliates, millions of people are registered here as an affiliate. These affiliates are the persons who earn money recommending Amazon products.
How to recommend Amazon products.
However, after creating your Associates account, you will get the full access of your dashboard in which you can generate the Affiliate links of any Amazon product. Now the main problem rises, of how to recommend or promote the affiliate products, in order to earn commission. There are many ways in which these affiliate products can be promoted, but the problem rises that many people does not have investment to promote. So, I have listed many ways of promoting, under the category of with Investment & without investment. Let's check it out.
How to recommend Amazon products & Earn Money – With Investment.
If a person put away some cash to promote these products, he/she can get the result in short-term. One should invest the cash in the right place to get the maximum conversions. Two are best ways of getting maximum conversions of affiliate with Investment. Listed Below:
1. Create a Website or Blog.
The first and the most beneficial investment of all time, for Amazon affiliate, is creating a website or blog in which a person has to invest some cash to buy a Hosting & Domain for his blog. This big investment is of one time in which he buys the hosting for one or two years. However, after creating the blog under a suitable niche, regular content regarding the niche should be published. For example, If our blog is regarding kitchen accessories, we will write the regular content on kitchen.
Moreover, While creating the content we will place our affiliate link inside the paragraph. let's take the example of kitchen again, If we are writing on kitchen towels, we will place our affiliate link of kitchen towels to buy from amazon. So if a person is satisfied with a product, reading your article, he/she can buy using your link and you will earn commission.
2. Create an Ad Campaign.
Secondly, A person can create an ad campaign to promote the affiliate product in different areas. Different social media platforms can be used for ad, like; Facebook, Instagram, Pinterest etc. First, we have to select a trending product on Amazon, with positive ratings and reviews, to recommend. Secondly, a location should be selected to promote the product there, where the product is commonly used.
Finally, A campaign should be created on any social media platform with the product's high quality images & a little much description about the product. You can copy these things from the amazon's product page, as amazon has allowed it to their affiliates. Then, obviously, we will put our affiliate link to buy the product. The campaign budget should be set according to your demand. The trend of the product should be checked on selected location, before publishing the campaign.
How to recommend Amazon products & Earn Money – Without Investment.
Promoting affiliate products in free way can take a long time in getting conversions. There are only two ways of getting maximum conversion without investing a single penny.
1. Create a YouTube Channel.
YouTube has always been the best way of earning money online without investment. Creating YouTube channel opens many more earning opportunities other than channel monetization. Amazon Affiliate is one of these. We can also use YouTube channel to promote our affiliate products, Simply, by uploading the video on reviewing the affiliate product with our affiliate link in the video description. It's simple and the best part of this method is that it is FREE.
The reason why this method is not commonly used because it requires a lot of hard work and patience at the beginning when the channel is in a growing stage. When a channel earns 5k to 10k subscribers, then that channel can create conversions of Amazon affiliate and makes you earn commission. After earning these amount of subscribers, one can also monetize this channel with google ad sense as well.
2. Posting on Other Social Media Platforms.
Another free way of promoting amazon affiliate can be posting to the groups, on social media, related to the product category. You should search for the groups with members more than 10k, and these members will be the interested ones and will buy immediately if the offer is reasonable.
But there will be one additional thing which should be considered that posting direct affiliate links to your post is not allowed from any social media platforms. For this you have to create a landing page for your affiliate product, with your affiliate link on your landing page. Now you will post the URL of the landing page on your post on the group.
How do I get paid for Referral of Amazon Products?
When a person refer the unique Affiliate link to any other person, He/she earns the commission fixed on the products bought by the customer. But what if the person clicks your affiliate link, and did not buy anything at that time? Don't worry!! When a person visits the amazon product page, with your link, and buys that product or any other product listed on Amazon, you will get the commission. Another amazing fact is that, When a person clicks your affiliate link, Amazon starts tracking the users activity on amazon and whatever he/she buys, in the period of TWO WEEKS, you will get the commission.
When will I get paid for referring?
Payments are made month to month if your equilibrium meets the base limit of 200 EGP. You should have your assessment data on document before we can make any Payment.
Commission pay are paid by direct store around 60 days after the month's end for which they are being paid. Commissions are procured after the request has sent. You might see that a few things wont show up in the Earnings Report after a request has been put. There are various reasons this could occur. Partners are not qualified for commission income from orders put for their sake, or by firmly related gatherings. The Amazon.com Associates Program is a publicizing program and isn't planned to give limits on buys. Our purpose is to pay commission income when partners allude random clients to Amazon.
This is the simple way in which you can make money only by recommending amazon products. Now, Start creating your associate account and get your sharing link. When you are done creating, tell me in comments, then we will start earning online together!!